Every year I make a New Year's resolution to blog more and yet here I am, 15 days into the 2015 with nothing to show for myself. But I have a good reason. I've been busy. Really busy. As in work-go-home-shower-sleep-and-do-nothing-else busy. My dad's birthday was 10 days ago and his card is still in my purse. (Sorry Dad!) But I like being busy, especially since it is because I have been working. On the Golden Globes.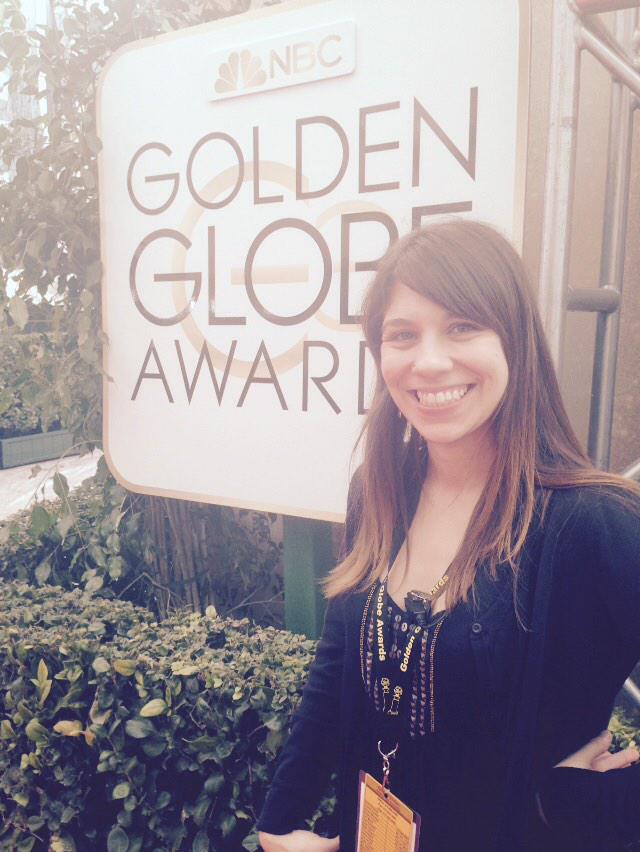 If you would have asked me last year at this time if I could have imagined a life where I live in California and work on my favorite awards shows I would have said, "No, that's not possible." But here I am. In California for NINE MONTHS now and quite literally living my dreams. It is the most surreal experience, one that I still don't believe actually happened to me. The show itself passed by in a blur of faces I had previously only watched on my television screen. The only sad part to me was missing out on actually watching including every bit with Tina and Amy, but it more than made up for it when they walked by me on their way off the stage at the end of the night.
All of this makes me realize  how completely lucky I am (a word I would have never previously would have used to describe myself) and how hard I have worked to get here. This isn't a #humblebrag. This is an actual brag. I have worked hard, I have pushed myself, and I am proud of where I am going and where I have been. And I shouldn't ashamed to say it. 2015 is already off to a great start (broken resolutions aside) and I plan on taking every opportunity that this new year brings.
Other things that are great about 2015 so far? Galavant, a show I knew I would like, but I didn't know I would like SO MUCH. I haven't laughed that hard in awhile. There are so many little in jokes and pop culture shout outs (John Stamos' character is named SIR JEAN HAMM for goodness sake). It's a show that would be great as it is, but is made even better by the addition of musical numbers. Psych fav Timothy Osmond is hilarious and Joshua Sasse is easily one of my new TV crushes. For sure the only good thing about Sundays.
I have also been catching up on a bunch of nominated films including Boyhood (great concept, but didn't love it overall), Whiplash (LOVE LOVE LOVE, I could watch that final scene over and over again), Into the Woods (one word: "Agony", the song not the emotion), and The Theory of Everything (Very Good, loved the music but don't have much else to say).
2015 has a lot of great things in store (and I don't just mean Avengers: Age of Ultron). I am excited to see what this year brings both in pop culturally and in my life. Either way, I'll write about (probably months after it happens, but you know, I'm doing the best I can).
Final Words
Because I now work on award shows I will no longer be posting my nomination reactions. I know you're all veryyy upset, but it is something I just decided would be for the best for now.
TV Notes:
I can't wait to watch Agent Carter. Like I said, I've been VERY BUSY, but I plan on watching it the second I have time (aka this weekend). Same goes for the Duplass brothers' Togetherness. 
The final season of Parks and Rec started this week and I still can't bring myself to watch it because the faster I watch it the sooner it will be over.
I'm finally catching up on the end of White Collar and WOW is it good. The second half of season 5 has been insane which only makes me more excited for what season 6 and the finale will bring.