As the world already knows, The Cursed Child, a play WRITTEN BY J.K. Rowling and taking place 19 YEARS AFTER HARRY POTTER AND THE DEATHLY HALLOWS FUNCTIONING BASICALLY AS 8TH BOOK is coming to the stage in London. THIS SUMMER.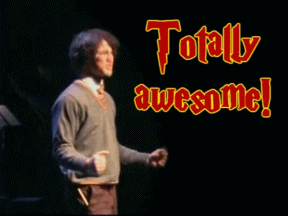 But that's the problem. That one small word. London. I live in California. Which is even further from London then when I lived in New York. But if you think I am missing this play you must not know me that well.
Harry Potter was the first fandom I ever loved. Before Marvel (there was a time before Marvel??) and Doctor Who and Game of Thrones there was a boy in a cupboard. And he changed my life.
He gave me friends (shout out to 3N who are the biggest bunch of Potterheads I've ever met).
He made my love of reading that much more fervent. He brought us midnight movies. He taught me about sacrifice and adventure and family and friendship and being different and doing what is right even when it is hard. And when the 7th book came out and all the movies ended I thought I had to move on. BUT I DON'T.
Fantastic Beasts and Where to Find Them is all well and good and I can't wait to see it, but it's not Harry's story. The Cursed Child is. It's about Harry and Ginny's son, Albus Severus. It's about the burden of being the youngest (and worst named) son of a legend. And it's going to be a new format which (more than likely) means new actors playing the Potters later in life. I am mostly excited by this because I'm sorry, but Bonnie Wright was not Ginny. Book Ginny is one of my favorite female heroines of ALL TIME for being a smart, beautiful, brave, Quidditch pitch ruling badass boss. She would have NEVER tied Harry's shoes for him (UGH). So along with everything else we get to see new takes on our favorite characters.
But I digress. We are back to the original problem of London aka the constant problem of being American. Luckily this summer I am planning (if the stars align and everything works out) on going to Israel on birthright. Which in my mind puts me closer to London/at least on the same side of the globe AT THE SAME TIME THE PLAY COMES OUT/STARTS PREVIEWS. Ever since I found out The Cursed Child was coming out this summer I have been plotting on taking a side trip to London after my other trip. I still don't know if this will work out. I have no idea of how much a ticket from Israel to London will be. I have never even traveled outside the US.
But without any set plans or even a plane ticket, I am planning on buying a play ticket when they go onsale next week. I have to try. I know if I don't I'll regret it. (And magically the tickets themselves are fairly reasonably priced.) So I will wake up before 4 am (tickets go onsale at 11 am GMT aka 4 am PST). I will guesstimate a date that I will be in London. I will buy a ticket. I will be nervous the entire time because if you thought buying a ticket for The Force Awakens made sites crash you have NO IDEA what Harry Potter fans can l do. And I will hope things work out. That is what I will do. Because the boy who lived is back. And I'm not ready to say goodbye yet.